NCA Master Class Series
Exploring the Double Bass: A Performer's Insights Into Performance Practices and Techniques of Double Bass Playing

Mickey Ribiski
Master Double Bassist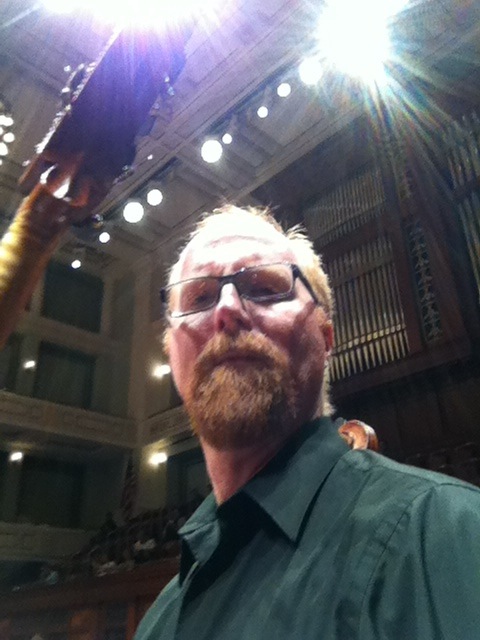 Monday, April 10, 2017
6:30 p.m.
At Nashville State Community College
admission: free
Join us for an evening "master class" with master double bassist, Mickey Ribiski.  Mr. Ribiski will explain and demonstrate the range and capabilities of the double bass, shed light on some common compositional problems, answer questions, and play and critique works brought to the function.  He will discuss the historical development of the double bass as it pertains to pedagogy; how the development continues to shape technique and performance practice in modernity. He plans on discussing and demonstrating common (and perhaps, not so common) technical and interpretive approaches to playing the double bass, providing ample time for question-and-answer.
EVENT DETAILS:
Monday, April 10: 6:30 p.m.
At Nashville State Community College,
120 White Bridge Rd, Nashville, 37209
In the "H" Humanities building, far northeast corner of the campus (map: https://s3.amazonaws.com/nscc.edu/PDFs/maps/MainCampusMap.pdf)
Park in the clearly marked visitors spots. Walk straight in from the parking lot into what looks like a side entrance (it will be below the previous mentioned "H" sign). When you walk in there will be a staircase keep going in to the first floor.  Directly to your left is the Large Ensemble Rehearsal Room, where we will meet.
About Mickey Ribiski
     Michael "Mickey" Rybiski began playing the bass in college while attending McNeese State University in Lake Charles, Louisiana. After only three years of study, Mr. Rybiski won the McNeese St. University Concerto Competition. He went on to earn a Bachelor of Music Performance degree in 1998. He earned the Master of Music Performance degree from The University of Michigan in Ann Arbor in 2002. Mr. Rybiski has studied with Jay Ecker, David Anderson, Derek Weller, Steve Molina, and Diana Gannett. He has participated in master classes and private study with Paul Ellison, Joe Carver, Jeff Bradetich, Edgar Meyer, and John Clayton. He currently serves as principal bass for the Nashville Philharmonic orchestra and has performed with the Ann Arbor Symphony, Flint Symphony, Saginaw Bay Orchestra, Lake Charles Symphony, Symphony of Southeast Texas, Rapides Symphony, Plano Symphony, and the Allen Philharmonic Orchestra. Mr. Rybiski has extensive experience as a music educator, serving for 11 years as an orchestra director in the Richardson Independent School District in Texas before moving to Nashville to accept the position of orchestra director at Poplar Grove Middle School in the Franklin Special School District. He is active in the music education community and has been or currently is a member of the Middle Tennessee School Band and Orchestra Association, Texas Music Educators Association, Texas Music Adjudicators Association, Texas Orchestra Directors Association, and the International Society of Bassists. He currently resides in Antioch with his wife Maurea and two sons, Andrew and John.